Pre-engineer low cost prefab fabrication corrugated metal house
The prefab house is a kind of green and economical mobile house with light steel as the frame, sandwich board as the enclosure material, and standard module series as the spatial combination.The temporary buildings can be assembled and disassembled quickly and conveniently, which realizes the general standardization of temporary buildings, sets up the concept of environmental protection, energy saving, efficiency and efficiency, and makes temporary houses enter into the field of series development, integrated production, matching supply, inventory and multiple revolving products.
Send Inquiry
Product Details
Pre-engineer low cost prefab fabrication corrugated metal house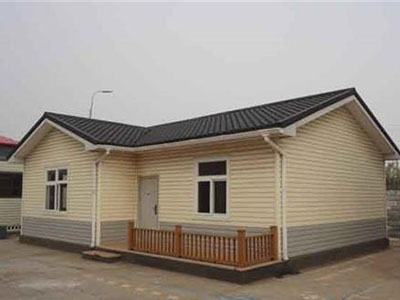 Description:
The prefab house is a new type of light steel composite board room with reasonable combination of material and steel structure.Very good safety effect can be achieved, the specific data is 7 or above strong earthquake and 12 typhoon resistance, which is difficult to achieve in ordinary houses.Therefore, luxury prefab house is widely used in some earthquake disaster areas.
The prefab modern housecost is low, because of some characteristics of the trailer, compared with some brick houses, one of its cost is very low, and can use a loop, using life is strong, according to statistics, a mobile number can be reused in commonly more than six times, and we also can understand more from these data, a comprehensive mobile cost is relatively low.
Specific:
(1)Project name: Pre-engineer low cost prefab fabrication corrugated metal house
(2)Door: Compound wooden door,security steel door, glass door,etc
(3)Ceiling: calcium silicate ceiling,PVC ceiling
(4)Size: According to the customer
(5)window: PVC or aluminum window
(6)Accessories: rivet, screw,glue, etc
Hot Tags: pre-engineer low cost prefab fabrication corrugated metal house, China, manufacturers, suppliers, for sale
Inquiry